[True Life: I am not a strong photographer. All photos in this post were taken out of spur-of-the-moment happenings.]
Hi, friends! Happy Wednesday!! I'm back at the What I Ate Wednesday round up again.
Thanks to Jenn for hosting! Also, how adorable was her recent 'Play With Your Produce' Post??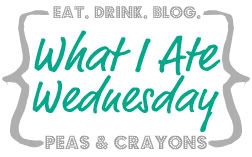 What have I enjoyed lately?
(Vanilla protein powder, 1 frozen banana, coconut Chobani, mango and a handful of frozen berries)
Yogurt bowls with fresh cut up nectarine
A pet peeve of mine is when stone fruit are juicy and drip all over me, so I prefer eating stone fruit such as peaches, nectarines and plums when they are juuustt ripe and cut up in yogurt or cereal.
Some potato croquettes on a pub crawl with my dad
And the holy grail
When my friends and I were on our water taxi adventure in Ft. Lauderdale this past weekend, my lovely Ryan had a hankering for chicken nachos with the works. (Why was he craving this? Because we just tried the brand spankin-new Tijuana Flats restaurant the day before and he had a platter of chicken chimichangas. Say that five times fast.)
It became quite funny to me that every bar and restaurant we visited did not have nachos, which I assumed would be a staple on most bar menus. It wasn't until one of our last stops on Las Olas when we found what we were looking for.
I definitely did some work on these nachos, too!
What is your favorite nacho topping? 
Two years ago, I would have only liked cheese on my nachos, but now I ask for the works! Especially with sour cream and guacamole!